About PEC:
Population Education is an integral part of Adult Education and Extension activity. It is important because it changes the way of living and use of natural resources. It learns to realize the responsibility regarding the population, situation of small family and the communities. It is also necessary to make people aware of their duties and responsibilities and to make them act accordingly. It is also needed to control population growth and to improve the better quality of life. It is essential that men and women understand the problems of population for a better interpersonal relationship between themselves.
Objectives:
To create awareness about the population explosion problems related to population.
To create awareness for small family
To create health awareness
Social and personality development
Mode of involvement in social movements:
Students participate in cleanliness drive, seminar, guest lecturers etc.
Admission Procedure/form:
Admissions are open to all students on first come first serve basis by filling a simple information form. The students are encouraged to enroll for PEC for which they are also awarded 10 incentive marks, which are given as:
(1) Regular activities : 3 Marks
(2) Project : 5 Marks
(3) Assignment on social awareness : 2 Marks
Regular Activities: 2022-23
De addiction Oath / Vyasanmukti Abhiyaan pratidnya:
On the onset of 75th Independence Day celebration, the de-addiction oath was taken by students of PEC on august 12, 2022 total 20 students participated in activity.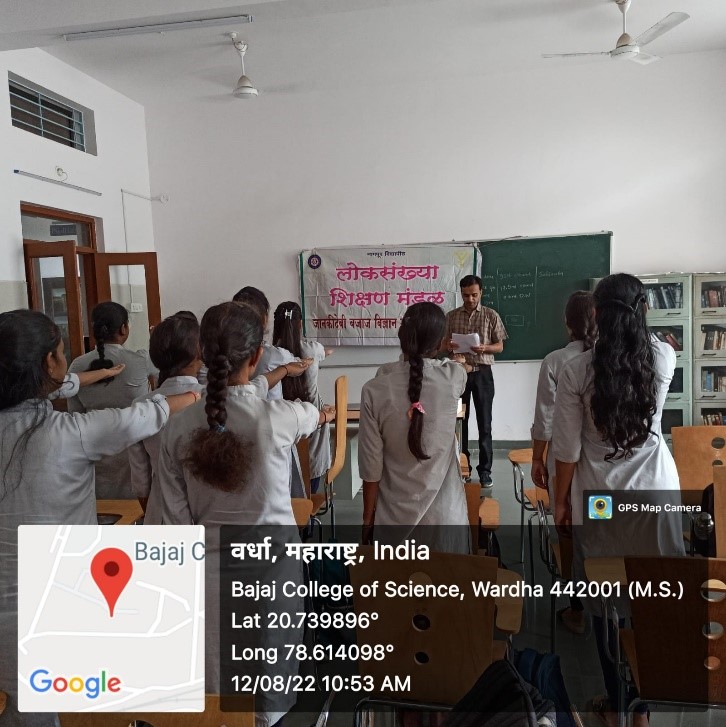 Group National Anthem:
PEC along with NCC/NSS/CWSS participated in the National anthem program organized by Govt of Maharashtra under 'Swarajya Mahotsav' as a part of 'Aazadi ka Amrut Mahotsav'. Total 350 individuals participated in the activity on August 17, 2022 at 11.00 am.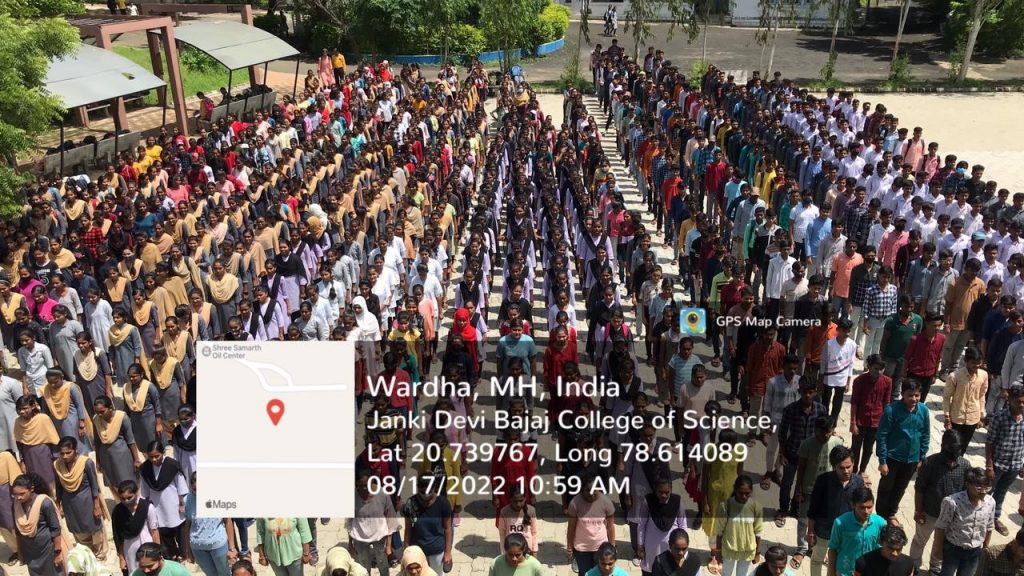 2020-21
National Voters Day Celebration :
National voter's day was celebrated on 25th January 2017 under the direction of the respected collector of Wardha. All students of B.Sc 1,2 and 3rd year along with faculties marched to the sports stadium with the banner of awareness about the importance of Voting in elections, where Collector sir through speech expressed the Importance of voting in elections by responsible citizens to make India a vibrant democracy.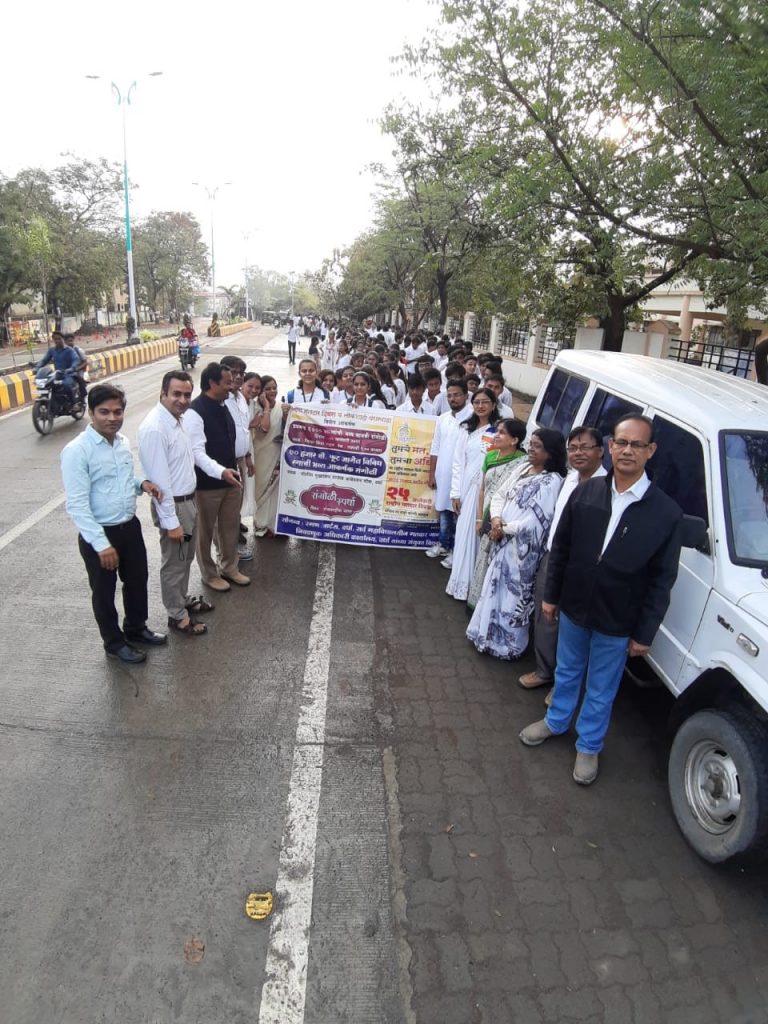 2018-19
A total of 38 students were registered for the program. Following activities were carried out in sessions 2021-22
Tree plantation program was organized on 14/08/2021 in life sciences premises.
A cleanliness drive was organized by PEC students on 23/12/2021 in the life sciences complex.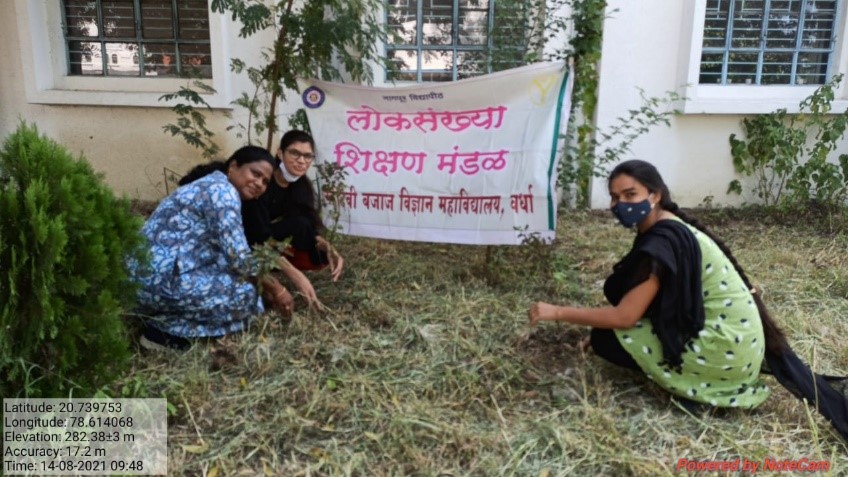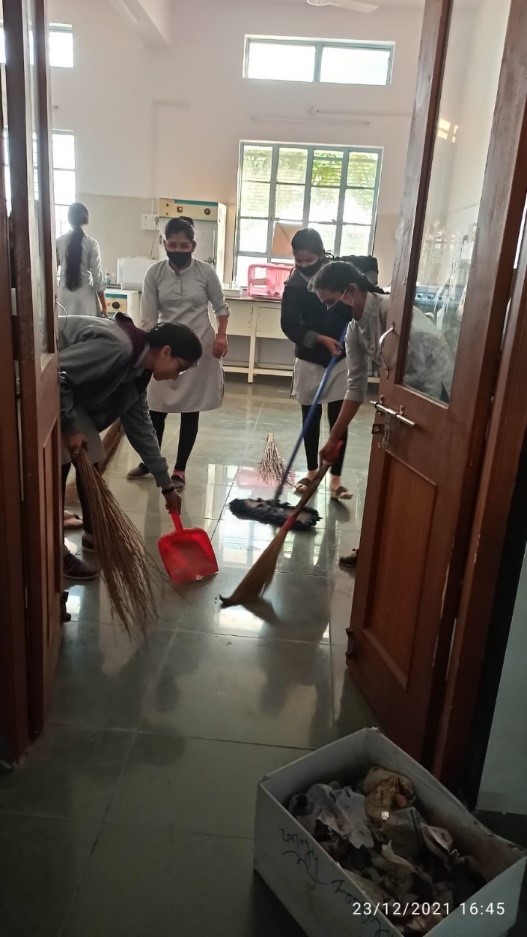 2017-18
As per the guidelines from Adult Education and Extension activity, R.T.M.Nagpur University, Nagpur 35 students were enrolled in Population Education Club. The purpose of this activity to create the awareness about the population explosion problems, awareness for small family, health awareness, social and personality development.
To achieve the above purpose, students take keen interest and involvement in various activities. The World Population Day was celebrated on 11th July 2017. On the occasion of world population day a guest lecture of Prof. N.C. Nikam was organized for students. Nagarparishad swachta rally" were organised and all the enrolled students took active participation in it. The students participated in flag hoisting ceremony on 15th August 2017 and 26th January 2018. The students also participated in cleanliness drive on 2 October 2017. The enrolled students submitted projects on various topics as per guided by the University. All these projects evaluated by the examiners appointed by University. All these programmes were conducted under the guidance of Principal of the college.
International Non-violence Day on 2nd Oct 2017 (Gandhi Jayanti ):
October 2, 2017 in order to commemorate International Non violence Day 2017, enrolled student took active participation on shiksha mandal's organised rally from Gandhi putala to Bapu Kuti, Sevagram, where Dr Mrs S.S Khandare , Program officer CWSS, Shri V P Khandwekar, Program officer PEC and Mr. M.D. Bansinge of NSS were present. Majority of Students took active participation.
Flag hosting Program:
The students participated in flag hoisting ceremony on 15th August 2017 and 26th January 2018. Further, students also participated in cleanliness drive in College campus on 26th January 2018.
World Population day: It is celebrated on July 11 every year, which seeks to raise awareness of global population issues. The event was established by United Nations Development Programme. It was inspired by the public interest in Five Billion Day on July 11, 1987, the approximate date on which the world's population reached five billion people. World Population Day aims to increase people's awareness on various population issues such as the importance of family planning, gender equality, poverty, maternal health and human rights. On the occasion of world population day a guest lecture of Prof. N.C. Nikam was organized for to make aware the students about the increasing population of India.
Guest lecture on Swaccha Bharat Abhiyan:
A lecture of Mr. Atul Tarale, Nagaradhyaksha Nagarpalika, Wardha arranged in the college on Swaccha Bharat Abhiyan. PEC ,NSS and CWSS students has participated actively.
Muncipal corporations cleanliness Drive /Nagarparishad swachhta rally:
The Swachh Bharat Abhiyan is the most significant cleanliness campaign by the Government of India. Shri Narendra Modi led a cleanliness pledge at India Gate, which about thirty lakh government employees across the country joined. A sense of responsibility has been evoked among the people through the Clean India Movement. With citizens now becoming active participants in cleanliness activities across the nation, the dream of a 'Clean India' once seen by Mahatma Gandhi has begun to get a shape. Being responsible citizens PEC students participated actively in Swachta Rally organized by Nagar Parishad.
 "Nagarparishad swachta rally" was organised and all the enrolled students took active participation in it. Participation of PEC students participated in Swacchata Rally to give the message of cleanliness to the citizens of Wardha.
World AIDS Day (Dec 1, 2017):
World AIDS Day on 1st December is an international day dedicated to raising awareness of the AIDS pandemic caused by the spread of HIV infection and mourning those who have died of the disease. Government and health officials, non-governmental organizations, and individuals around the world observe the day, often with education on AIDS prevention and control.
World AIDS Day is one of the eight official global public health campaigns marked by the World Health Organization (WHO).
As of 2017, AIDS has killed between 28.9 million and 41.5 million people worldwide, and an estimated 36.7 million people are living with HIV, making it one of the most important global public health issues in recorded history. Thanks to recent improved access to antiretroviral treatment in many regions of the world, the death rate from AIDS epidemic has decreased since its peak in 2005 (1 million in 2016, compared to 1.9 million in 2005)Population education club in association with NCC girls Wing has organized lecture on "AIDS AND SOCIO ECONOMIC SCENARIO". For awareness of AIDS. Shri V PK Khandwekar delivered the lecture and interacted with students.