About the Cell:
The Training and Placement Cell's goal is to introduce science students to the corporate environment. Since June 2017, the Training and Placement Cell (TPC) has served as the interface between college students and industries. TPC aids students in their last year of study in securing employment after programme completion. Nonetheless, training and grooming begin in the very first and second year of graduation and second semester for postgraduation. Talent identification, classification, and addressing the strengths and shortcomings of students have characterised our efforts. The training and placement office at Bajaj College of Science collaborates with major corporations and institutes to build up internship and training programmes (internships) for graduating students, in addition to facilitating the placement process. The office liaises with numerous industrial institutions that conduct campus interviews and select graduate and post-graduate students from all fields. The TPC provides the infrastructure for group discussions, assessments, and interviews, as well as other logistical support. The office engages with numerous industries around the nation, with various organisations conducting campus interviews.
The placement season spans the course of the year, beginning the final week of July and ending in March. Pre-placement discussions are also done in accordance with mutual convenience. Through the TPC, job openings, interview dates, and candidate selection are communicated. The TPC is supported by a committee composed of faculty members which are actively participating in TPC activities. Each year, in addition to set of norms, the committee develops a broad policy framework. Students are heavily involved in the implementation of these policy decisions. In collaboration with industry and academic professionals, TPC provides training programmes to strengthen students' soft skills and overall personality. For campus campaigns, invitation letters and emails are addressed to various firms and organisations. Internships are also provided to interested students in order to prepare them for employment. TPC encourages undergraduate to apply national internship programmes. Students are trained in vocational skills such as communication, effective and confident body posture, time management, and stress management in order to adapt to various work cultures and circumstances. Teachers also create a profile of the organisation to help students comprehend the work culture and job prerequisites.
Objectives:
To provide ample possibilities for placement of science undergraduates and postgraduates to achieve maximum placements.
To hone students' skills and guide them toward becoming professionals, as well as to improve their reasoning and aptitude.
To prepare students for on-site and off-site campus recruiting by arranging training in online registration, on-site written tests, technical and HR interviews.
To enhance career advice by organising guest speakers, such as senior business experts, and most crucially by senior students/college alumni who have recently been employed.
To catalyse collaborations with reputable industries and corporations for campus recruitment.
To create student awareness of different job alternatives and assist them in defining their career ambitions.
To serve as a link between students, alumni, and potential employers.
Placement Mechanism:
The colleges offer a placement cell for both undergraduate and graduate students. The placement cell conducts a variety of activities, including aptitude tests, seminars, group discussions, guest lectures by industry experts, and a training on soft skills. The placement committee strives to contact companies for campus placement opportunities. A communication occurs via the HR group via telephone, and email. The student database is sent to the industry or company according to their needs. Some of them offer training and college recruitment. According to their hiring process, the student gets shortlisted. After determining the date and time, the company performs a campus drive on college campus or calls students to their offices. Students who pass the aptitude test are qualified for subsequent rounds, such as technical and HR interviews. The recruited students get job offer letter and most of them join those companies or institutes immediately. The training and placement cell keep records of placements and prepare the database.
Activities at Glance:
To establish a pattern that is suitable to the placement process, the placement & training cell includes distinct activities that can highlight the graduates' attitude and prepare them for upcoming interviews and interactions with firms that are conducting placement programmes.
Some of them on a larger scale include: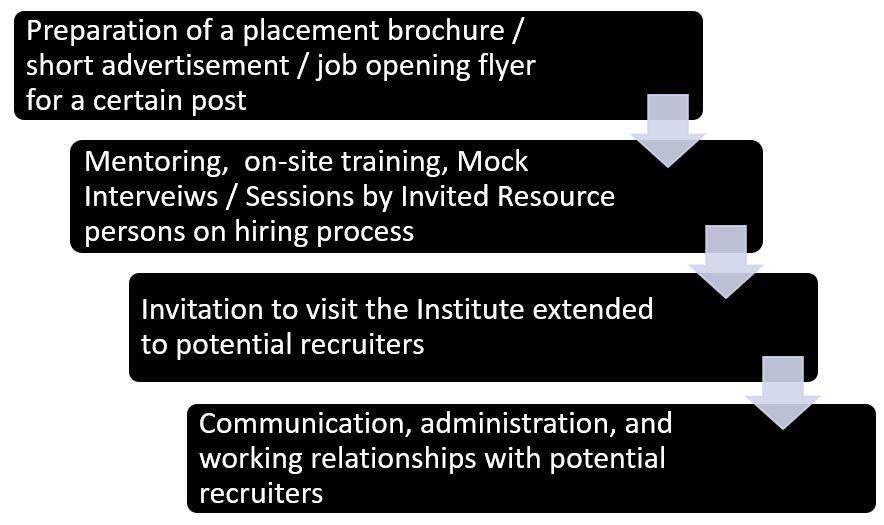 Committee Members:
Dr. Dhiraj Naik (Convenor)
Dr. Parvez Saudagar (Convenor)
Dr. Govind Lakhotiya (Faculty Member)
Dr. Akhil Nakhate (Faculty Member)
Dr. Abhimanyu Maheshwari (Faculty Member)
Dr. Saikat Biswas (Faculty Member)
Event Calendar-Tentative (2022-2023):
| | |
| --- | --- |
| Dates | Events |
| Student's data (Full name, contact details, Passing year) bank creation | 01st July to 30th September, 2022 |
| Start listing of Companies Data from various sources, including available data, webpages, personal contacts, etc. | Round the year |
| Student Curriculum Vitae/Resume Preparation →Resume format distribution→ Students →Placement Cell   | 1st October to 1st November, 2022 |
| To approach industries for site training and schedule dates according to firms' availability | 15th December, 2022 till the year end |
| Companies for on-campus and off-campus follow up via email (Weekly Basis) through a phone call (Weekly Basis) personally visiting (with proper planning and approval from competent authority) | Round the year |
| Beginning of Summer Training and Internships Other Ideas Under Consideration: The HR meeting is planned to be held once a year in the month of January. To schedule one tour of a manufacturing facility each year Workshops on soft skills are going to be held at regular intervals. To organize two guest lecturers from industrial experts every semester | 15th December, 2022 till March 2023 |
Event Gallery:
Yearly Reports/Minutes: