About the Department
The department aims at providing the students with a comprehensive foundation in basic and applied aspects of Animal Science enhancing their employment potential, and embarking on meaningful research. Since the inception of the college, in the year 1962, the Department of Zoology has been established as a leading centre for higher education in animal sciences. The Department was the first recognized Department in the District of Wardha. The department is equipped with a basic instrumentation facility, which has recently been upgraded with a number of modern Analytical instruments by prestigious grants fetch by the college (Centre Potential for Excellence from the University Grant Commission and Star College status from the Department of Biotechnology, Government of India). At present, the department is running 3 years of UG (B.Sc. course), and 2 years of PG course. The Department of Zoology has been holding various workshops, conferences, and Seminars of leading scientists to provide a platform for scientific insights and update the latest frontier of research to students. To further strengthen teaching and research separate laboratories with state of art teaching-learning facility is available. Department has an up-to-date departmental library with the latest editions of books, internet facilities for students and a well-established museum of local fauna with a unique collection.
Highlights of the Department
Well-equipped UG and PG laboratories with more than 50 experimental setups.
Models and specimens for a better understanding of the animal World.
Well-arranged museum with representatives of all phylum.
Activities like guest lectures, educational tour to research institutes, workshops on animal cell culture, molecular biology and apiculture.
Model competition.
Seminar competition
Courses / Programmes Offered
Undergraduate
Three year B.Sc. Course
Postgraduate
Two year M.Sc. Course
Specialization: Animal Physiology
Certificate Course
Certificate course in Vermicompost Technology
Faculty Profile
Name
Qualification
Designation
Specialization
Area of Research
Faculty Profile
Regular faculties
Dr. M.R. Chandrakar
M.Sc , Ph.D., SET
Associate Professor and Head
Animal Physiology
Molecular Biology
Click here
Dr. A. D. Theng
M.Sc, Ph.D., CSIR-UGC NET
Assistant Professor
Molecular Biology
Free radical Biology and ageing
Click here
Mr. V. P. Khandwekar
M.Sc. CSIR-UGC NET
Assistant Professor
Entomology
Entomology and biomaterials
Click here
Dr. V. J. Sharma
M.Sc, Ph.D.
Assistant Professor
Fresh water Zoology
Toxicology, Solid waste management, vermicomposting
Click here
Dr. Saikat Biswas
M.Sc., Ph.D., CSIR-NET JRF
Assistant Professor
Molecular Biology
Neurobiology Neuroendocrinology
Click here
Contractual faculties
Ms. Suchita Tingusale
M.Sc., SET
Assistant Professor
Animal Physiology
Animal Physiology
Click here
Ms. T.R. Bhute
M.Sc.
Assistant Professor
Animal Physiology
Animal Physiology
Click here
Supporting Staff
| | |
| --- | --- |
| Name | Designation |
| Mr. S. H. Yende | Lab Assistant |
| Mr. P. S. Sable | Lab Attendant |
| Mrs. N. N. Jugnake | Lab Attendant |
Highlights of Syllabus under academic Autonomy
The Syllabus is framed to ensure that undergraduate students with Zoology as one of their subjects can avail of higher studies in Zoology or any other allied fields of Biology. The postgraduate students learning Zoology will have the academic standard in theory and practical for applying in research or in industry.
Modifications are done in UG Syllabus where repetition of topics is avoided and more practical-based concepts are included.
The syllabus ranges from traditional Zoology like classification and systematics to more modern Zoology like molecular biology and cell culture.
The postgraduate syllabus is revised keeping in mind competitive exams like CSIR-UGC NET and SET.
Multidisciplinary subjects like Biochemistry is included in the postgraduate syllabus which gives the students a wider scope in research and in academics.
More practical based topics are included in the postgraduate giving students more hands on approach to learn the subject.
Research
List of approved Research Supervisors / Guide
| | |
| --- | --- |
| Sr. No. | Name |
| 1 | Dr. M.R. Chandrakar |
List of ongoing projects
| | | | | |
| --- | --- | --- | --- | --- |
| Sr. No. | Name of Project | Funding Agency | Name of Investigators | Amount Sanctioned |
| 1 | Investigations on Larvacidal activities of different green synthesized nanoparticles on various genus of mosquitos found in Wardha region | RGSTC, Mahrashtra | Mr. V.P. Khandwekar (Investigator) Dr. S. P. Biswas (Co-Investigator) | Rs. 2,00,000/- |
List of completed projects
| | | | | |
| --- | --- | --- | --- | --- |
| Sr. No. | Name of Project | Funding Agency | Name of Investigators | Amount Sanctioned |
| 1 | Effect of waves generated by mobile phones on development of chick embryo | UGC 42-510/2013 (SR) | Dr. M.R. Chandrakar | Rs. 11,78,400 |
Research articles
Papers published in National/International Journals (Last 5 years)
Sr. No.
Authors
Paper Title and Journal information
Year
Dr. M. R. Chandrakar
1
Chandrakar M. R..Kalwade P. S., Pachlore G. S.
Biodiversity of Moths in Hinganghat Taluka, Wardha, Maharashtra (India). Advances in Zoology and Botany, 10(1), 18 – 24. DOI: 10.13189/azb.2022.100103.
2022
2
Mamata Chandrakar
The effect of exposure of EMF radiations from cell phones on percentage of Glucose, Cholesterol and Protein in developing chick embryos Applied ecology and environmental sciences,2020, vol.8, No. 6, 422-427.
2020
Dr. A.D. Theng
3
Amol D. Theng
A Correlational study of cranio-vertebral angle with smart phone uses time in progression of forward head syndrome among post graduate students. Int.Res.J. of Science and Engineering, 2019, vol 7, issue 3 47-50
2019
Dr. S.P. Biswas
4
Jadhao, A.G., Biswas, S.P., Bhoyar, R.C., Pinellie, C
The distribution of nicotinamide adenine dinucleotidephosphate-diaphorase(NADPH-d) in the medulla oblongata, spinal cord, cranial and spinal nerves of frog, Microhyla ornata. J. Chemical Neuroanatomy 2017, 81:76-86
2017
5
Bhoyar, R.C., Jadhao, A.G., Sivasubbu, S., Singh, A.R., Sabharwal, A., Palande, N.V., Biswas, S
Neuroanatomical demonstration of calbindin 2a-and calbindin 2b-like calcium binding proteins in the early embryonic development of zebrafish: mRNA study. J. Dev Neurosci. 60: 26-33.
2017
Papers published in conference (Last 5 years):
Sr.No
Title of Invited Talk /Paper Presented
Title of Conference / Seminar/Year
Event Organized by
International/ National /State/ regional/ college or university level
Dr. A. D. Theng
1
Screening and exploration of microbe based attractant for mosquito : One step toward novel mosquito control method
2nd virtual annual international conference on naturopathy, nanotechnolog, neutraceuticals and immunotherapy in cancer research ICN3IC 21, 11-12 JUNE 2021
Jointly organized by School of life sciences,BSACIST,Purdue University USA
International
2
Evaluating the potential of hen egg albumin for supporting the survival of human lymphocytes in primary cell culture.
National conference on basics in advances in biological sciences 8-9 Apr, 2022
DRB Sindhu mahavidyalayat Nagpur
National
Mr. V. P. Khandwekar
3
Biogenic synthesis of silver nanoparticles using aqeous plant extracts of Azadirachta indica, Laurus nobilis and Melaleuca alternifolia for targeting oppertunistic microbs
National conference on basics in advances in biological sciences 8-9 Apr, 2022
DRB Sindhu mahavidyalayat Nagpur
National
Dr. M.R. Chandrakar
4
Effect of allethrin based mosquito repellent inhalation on haematological parameters of commonmale Indian Field Rat, Rattus rattus
Second international web conference on Advanced material science and nanotechnology 23-25 November, 2021
Pravin Khodke memorial trust Amravati'sVinayak Vidnyan Mahavidyalaya, Nandgaon Khandeshwar, Amravati
International (Within country)
5
Comparative Study Of Body Mass Index among male and female student groups
International web conference on Advanced material science and nanotechnology, (NANOMAT-2020) 20-21, June 2020
VinayakVidnyanMahavidyalaya, NandgaonKhandeshwar, Dist. Amravati.
International (Within country)
6
A survey to understand the impact of home schooling on children's due to lockdown and role of women as a bridge between school and schooling; International journal of science technology and management
One day international E- conference Queens of ERA – 2021 23 March, 2021
G.S.Tompe Arts, Commerceand Science College, Chandur Bazar, Dist. Amravati
International (Within country)
7
Constraints analysis of Kadaknath Meat preference over other poultry birds meat in the district of Amravati using Garret Ranking Method.
National multidisciplinary e- conference on research in science & technology for sustainable development 23 March 2021
Rajashri Sahu Science College, Chandur Railway Dist.- Amravati
National
Facilities
Departmental Library
Session
No. of Books /Journals
2021-22
445
Internet facilities for Staff & Students
3 desktop with internet facility Central Library with ICT facility
Laboratories and Staff room (with dimensions)
UG Lab – 54' x 27.3'
Lab No. 1 PG – 21.6 'x 27.6′
Lab No. 2 PG- 21.6' X 32' Research Lab- 21.6'x 22.6' Museum – 27' X 21.6'
ATC Storage- 21.6'x10' Media Preparation- 18'x12'
ATC Laboratory – 21.6' X 22.00'
Staff Room- 27' X 21.6'
Undergraduate Laboratory
Post-graduate Laboratory Research Laboratory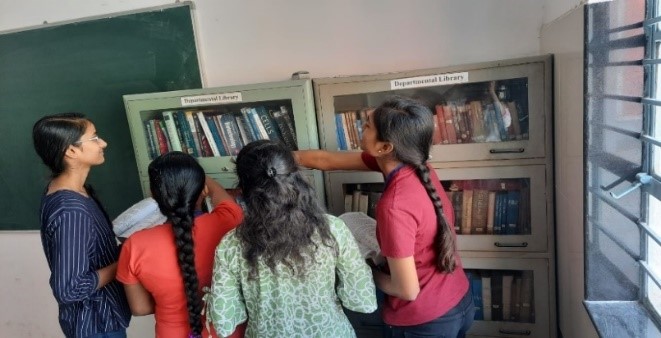 Departmental Library
Sophisticated Instruments / Major Laboratory Equipment
Sr. No.
Name of Equipments
Make
Qty.
1
Water Bath
Tempo
1
2
Single dsitillation unit
Bhanu
1
3
Incubator
Tempo
1
4
Hot air oven with digital controller
Tempo
1
5
Digital Colorimeter
Systronics
1
6
Deep freezer
Remi
1
7
Cooling Centrifuge with voltage stabiliser & Angle head
Remi
1
8
Water & Soil analysis kit
Naina
1
9
Trinocular Research Microscope with digital camera
Olympus
Canon G11 camera
1
10
Mini Vertical Gel Electrophoresis Unit
Genei
1
11
Mini Submarine Gel Electrophoresis Unit
Genei
1
12
Variable Type power pack
Genei
1
13
Pipette Variable Volume – 2 ( 0.5-10 ul)
Bioera
1
14
Pipette Variable Volume – 4( 20-200 ul)
Bioera
1
15
Pipette Variable Volume – 3 ( 5-50 ul)
Bioera
1
16
Autoclave
Tempo
1
17
Analytical Balance
LCGC RADWAG
1
18
U. V. Visible Spectrophotometer
Schimatzu
1
19
Microscope
Magnus
2
20
Horizantal electrophoresis
Genei
1
21
Vortex
Genei
1
22
Microwave Oven
Koryo
1
23
Gel rocker
Genei
1
24
Magnus image Projection system
Magnus
1
25
Magnus inverted microscope
Magnus
1
26
Microfilt Biosafety Cabinet class II Type A2
Microfilt
1
27
CO2 Incubator Water jacketed series (With Voltage stabilizer and CO2 regulator)
Cintex
1
28
Medimeas Cryostat Microtome with Voltage stabiliser
Medimeas
1
29
Refrigerator
Samsung
1
30
UPS
APC
1
31
Variable Volume Micropipette
(0.5 – 10 ul)
GENEI
1
32
Variable Volume Micropipette
(20 – 100 ul)
GENEI
1
33
Variable Volume Micropipette
(40 – 200 ul)
GENEI
1
34
Micropipette ( 200 – 1000 ul)
GENEI
1
35
Stereo Zoom Research Microscope with adapter
Carl zeiss
1
36
Inclined Monocular Microscope
(Model No. MLX-M)
Magnus
4
37
Burette metal stand with clamp
LLS
10
38
Air Curtain 3′ x 7 with sensor
Russ.
1
39
Variaspenser 0.25 – 2.5ml
Tarson
2
40
Variaspenser 0.5- 5ml
Tarson
2
41
Variaspenser 1-10 ml
Tarson
2
42
Variaspenser 2.5 – 25 ml
Tarson
2
43
Variaspenser 5-50 ml
Tarson
2
44
Binocular Microscope LED
Model : Vision 2000
Labomed
5
45
Homoenizer
Remi
1





46
Advance Rotary Microtome
(Latest "Spencer" 820-Type)

Disposable blade holder for low profile/high profile blades

Disposable blade for low profile/high profile blades (pack of 50)

Automatic knife sharpner (spencer type)

Knife Sharpner abrasive (two bottles of 200 ml)





Medimeas
1


1


1


1


1 pack of 2
47
UV Face Shield (imported)
1
48
UV Trans-illuminator
Regular, Viewing Area of 20 x 14 cm
1
49
Contech Digital Balance ( Model No. CAS-234 without motorized internal calibration
Contech
1
50
Magnetic Strirrer cum Hot plate ( Cat-6030, Size 18×18 cm, Capacity 5Ltr
Tarson
1
51
Microscopes (Molocular Laboratory Microscope Model HB)
Magnus
10
52
Digital Micro Pipette, Increment 0.2 µl : 20-200 ul
Genaxy (GENSLEEK – 200)
10
53
Digital Micro Pipette, Increment 1 µl : 100-1000 ul
Genaxy (GENSLEEK – 1000)
2
54
Magnus Mono Microscope
(Model no. HM 100)
Magnus
7
55
Digital Portable Muscle Stimulator
Biotech
1
56
Soxhlet Extraction Unit
B.K. Instrument Co.
1
UV-Visible Spectrophotometer Vortexer Dissecting Microscope
pH meter Water bath Microtome
Homogenizer Centrifuge Soxhlet Apparatus
Activities
Organized a study tour to NEERI, Nagpur on 28.2.2018.
Organized guest lecture and workshop under the banner of Edu- Bridge in association with NCCS Pune by Dr. Abhitabha Mujumdar (Scientist D) on 21.12. 2018.
Organized State-level Biogenius Competition in association with Alumni Association Govt. Vidarbha Institute of Science and Humanities, Amravati on 13.12.2020.
On 28.2.2020 organized quiz competition, model exhibition and bird feeder distribution.
Organized Online workshops and Lectures for UG and PG students. Two lectures by Dr. Jayant Biswas and Dr. R.P. Chondekar and Three days of an online workshop conducted by CUBE, HBCSE, Mumbai (08.06.21 to 16.06.21)
Organized an online lecture on Next Generation Sequencing by Dr. Rahul Bhoyar (28.09.2021)
Organized a guest lecture in association with Department of Botany on 'All about owls' by Dr.Jayant Wadatkar to celebrate Wildlife week (04.10.2021)
Organized a guest lecture on 'Introduction to forensic biology' by Dr.Archana Mahakalkar to inaugurate the Zoological Society of the Department. (12.02.2021)
Organized Scientific Model, Rangoli and Poster Competition to Celebrate the National Science Day (28.02.2022)
Organized State-level Biogenius Competition in association with Alumni Association Govt. Vidarbha Institute of Science and Humanities, Amravati on 28.03.2022
Organized an Elocution Competition on the occasion of International Tiger Day on 29.07.2022
Organized a guest lecture of Dr. Kanchan Phatak in association with Bajaj Science Education Center on 11.09.2022
Celebrated the Wildlife week by organizing a postcard painting competition and a guest lecture of RFO Rupesh Khedkar on 4.10.2022
Photo Gallery
Link for Photo Gallery : Click here
Academic Achievements of Students
| | | |
| --- | --- | --- |
| Sr. No. | Name of the student | Competitive/Entrance Exam |
| 1 | Ms. Rewati Lonkar | SET 2021 |
| 2 | Ms. Prajakta Rajesh Chalurkar | SET 2022 |
| 3 | Mr. Tejas Diliprao Tajane | SET 2022 |
| 4 | Ms. Pranita Diliprao Ashtankar | RTMNU PET |
| 5 | Ms. Kaumudini Bhimrao Ambade | Gondwana University PET 2022 |
| 6 | Mr. Prafull Kalwade | NET 2022 |
Student Placements
Sr. No.
Name of students placed
Name of the employer
Pay package at appointment
1
Ms. Prajkta P. Bhutey
Tata Consultancy Services, Nagpur
NA
2
Ms. Pallavi D. Ughade
Tata Consultancy Services, Nagpur
NA
3
Ms. Vedika D. Fatinge
Tata Consultancy Services, Nagpur
NA
4
Ms. Aishwarya Mhaiskar
Tata Consultancy Services, Nagpur
3.0 Lakh
5
Ms. Suhas Dandekar
Xeam Ventures Pvt. Ltd.
3.24 Lakh
6
Ms. Ashlesh Katpatwar
NEERI, Nagpur
3.0 Lakh
7
Ms. Afsana Saudagar
Dept. of Paediatrics, MGIMS, Sewagram
3.72 Lakh
8
Ms. Revati Lonkar
Shiksha Mandal's Bajaj College of Science, Wardha
1.65 Lakh
9
Ms. Trupti Bhute
Shiksha Mandal's Bajaj College of Science, Wardha
1.65 Lakh
10
Mr. Sanket Bhoyar
Uttam Value Steel Limited, Wardha
1.85 lakh
11
Mr. Snehal Dhone
Jennifer, Project Manager, TCS, Nagpur
3.5 Lakh
12
Ms. Sayali N. Jagtap
Pyramid IIT-JEE Medical Foundation Nagpur.
NANDANVAN CENTRE
Bhande plot square, Umred road, Nagpur.
2.4 Lakh
13
Ms. Pratiksha Getme
Ishved Biotech Pvt Ltd. (Tissue culture laboratory)
Aurangabad-Nagpur Highway,
Sindkhedraja, Buldhana-443001
1.2 Lakh
14
Ms. Nikita Khare
Dr. Suvarna Patil, HoD, Taywade College, Mahadula- Koradi (Nagpur)
0.96 Lakh
15
Mr. Anup Mate
New Arts, Commerce and Science College, Wardha
0.96 Lakh
16
Ms. Hemlata Wanjari
Excellence Academy, Karanja Ghadge, Dist. Wardha – 442001
0.96 Lakh
17
Ms. Laxmi Gharpure
Punjab National Bank, Wardha
2.76 Lakh
18
Mr. Praful Kalwade
Vidya Vikas Arts, Commerce and Science College, Samudrapur
1.2 lakh
19
Ms. Kalyani Sahare
Swami Vivekanand College, Amgaon
0.84 Lakh
20
Ms. Prajakta Charulkar
Mount Carmel Convent School, Samudrapur
1.8 lakh
21
Miss. Snehal Mogarkar
Aditi Healthcare Management, Mumbai
2.00 Lakh
22
Miss. Vaishnavi Chauhan
Oasis Fertility, Secunderabad, Hyderabad
3.80 Lakh
23
Ms. Ashwini Nasare
Bajaj Science Centre, Wardha
1 lakh
24
Mr. Snehal Dhone
Tata Consultancy Services, Nagpur
3.5 lakh
25
Ms. Vishuddha Alone
School Teacher
1 lakh
26
Mr. Tejas Tajne
MGIMS, Sewagram
3.6 lakh
27
Ms Shivani Ramesh Bhomle
Shiksha Mandal's Bajaj College of Science, Wardha
1 lakh
E-content
E content Links for UG
https:// ugzoology.gnomio.com
E content Links for PG: